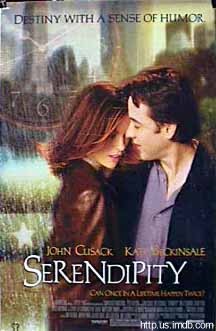 Buy this poster at Nostalgia!
When love feels like magic...you call it destiny. When destiny has a sense of humor... you call it... Serendipity.
Serendipity n. an aptitude for making fortunate discoveries accidentally [serendipitous adj.] -Webster's Dictionary
Release Dates: August 24, 2001 USA
September 19, 2001 Belgium
October 2001 Netherlands
Genres: Comedy, Romance
Running time: 1 hr. 25 min
MPAA Rating: PG-13 for a scene of sexuality, and for brief language.
Official website: http://www.serendipity-themovie.com
Officia Soundtrack website: http://columbiarecords.com/serendipity
Distributor: Miramax Films
Production Company: Tapestry Films (She's All That)
Cast: John Cusack, Kate Beckinsale, John Corbett, Eugene Levy, Jeremy Piven, Molly Shannon, Bridget Moynahan; other cast not announced yet.
Director: Peter Chelsom (Town and Country, The Mighty, Funny Bones, Hear My Song)
Screenwriter: Marc Klein (his debut)
Premise: On a bustling shopping day in the winter of 1990, Jonathon Trager meets Sara Thomas. Two strangers amid the masses in NYC, their paths collide in the mad holiday rush as they fall victim to a mutual attraction. Despite the fact that each is involved in another relationship, Jonathon and Sara spend the evening wandering Manhattan. But when the night reaches it's inevitable end, the two are forced into determining some kind of next step. When the smitten Jonathon suggests an exchange of phone numbers, Sara balks and proposes an idea that will allow fate to take control of their future. If they are meant to be together, she tells him, they will find their way back into one another's life.
Filming: Production started on this movie on July 24th, 2000 in New York, before moving to Toronto on August 28th, 2000. (Kate Beckinsale will be coming to this movie right off the sets of Pearl Harbor). Filming wrapped in late October 2000.
For trailers and interviews, visit the Multimedia section!
Critic Reviews
"Pure cotton candy: It fills you with instant delight then is gone moments after the final image fades from the screen."
-- Kirk Honeycutt, Hollywood Reporter
"...a fairy tale of boy-meets-girl, boy-loses-girl, boy-gets-girl that, by virtue of casting alchemy, a smart, funny script, and not a little creative serendipity all its own, works far better than such a standard bedtime story has a right to."
-- Lisa Schwarzbaum, Entertainment Weekly
"One thing this lighthearted, lightweight comic fable demonstrates is that it's OK to have a romantic comedy set in Manhattan with the potential lovers flying across the country to rendezvous."
-- Bob Graham, San Francisco Chronicle
Film Facts

On 10 October 2000, a brief shot was done on Pier 7 off the Embarcadero (City and County of San Francisco). On 11 October 2000, they did shots on Columbus Avenue at Broadway, the San Francisco Ferry Building, California & Mason Streets, and from one of the Golden Gate Ferries on the Bay. The rest of the movie was filmed in New York and Toronto.

The cast, crew, and production office were all at the Renaissance Stanford Court Hotel, 905 California Street at Powell.

During filming of this movie in NYC, the following note was posted on a production trailer: "Yes, we are filming a movie. It is called `Serendipity.' It stars John Cusack and some girl from Britain that you wouldn't know -- even if we told you her name. We will be shooting tonight until midmorning. Please don't ask the crew any questions. Even if they don't look like they are working, they are thinking."